(In no specific order)



You could hardly count this as a review, it's more of a rave about how much I LOVE this camera. For about a year I pined over this camera in hopes that one day I'd be able to afford such a luxury machine. Fortunately, the D7100 was released not too long ago which meant that the D7000's price dropped almost instantly. Personally, if you're going to buy a new DSLR in the same area of technical strength, the D7000 isn't that behind the D7100 ("
95% the same camera
" says
Ken Rockwell
, the ultimate camera tech guru). I read Ken's page about the D7000 all the time, to be honest. I wanted the camera that badly that I window shopped for it online consistently and when the opportunity arose that my father would purchase the fab sale price of about $850.00 CAN (plus taxes and warranty), I sure as hell took it.
So I was set for the lenses I wanted/could afford right now, and having my dream camera body finally checked off the list, I felt like a huge milestone was hit for me. I can tell you I looked at my growing collection of gold Nikon boxes like a proud mother! Now enough chit-chat, lets get to the point of why it felt nice to put away my old hat of a D50.
1 - Double Card Slot!
I don't think I can stress this enough, but the ability to hold two cards at the same time and define their abilities when I'm shooting has sped up the process. Although, I'm always a stickler for checking how many shots I have, it's nice to know that I can shoot with the security of back-ups or extra room and I can do so instantly without having to fumble a bunch of cards around. I learned a lot from gritting against the roughness of using an outdated camera, and the D7000 is helping me put it to good use.
2 - Instant Recall Modes (U1 and U2)
.
Being able to customize and save settings automatically has made it so much faster to work around people. Having to shoot events, portraits/people in difficult poses, and getting shots down without having to worry about setting 2-4 different knobs constantly made my life a smooth ride. It was also a
super super
(thanks a million for understanding the professional world, Nikon) bonus not to have all the standard pre-set settings on the shoot mode dial. I guess it's a given once you buy into the higher class cameras, but I almost never
EVER
need the silly landscape/portrait/sports/etc settings simply because I love to have control over everything so I know exactly what I'm getting out of each and every shot (and so every serious photographer should!).
3 - The Amazing Body Layout.
Having used the same camera for about 2+ years made me accustomed to the simplified layout - which was
not
a bad thing! It was easy to get around to the things I needed and I didn't have all those extra buttons and such which I didn't need essentially, and the D7000 knows exactly what I mean. At first, upgrading from a mid-lower class DSLR to an upper class made the compatibility a bit overwhelming for me having to discover exactly what does what. But call it Nikon/Photographer Intuition, I was able to pick up the camera and be as natural with it as ever. It was very similar to the majority of the Nikon bodies in its class and I'm completely comfortable adjusting/viewing anything without sticking my fingers all over the thing just to reach a petty dial. It may just be the reason why I'm a sincere Nikon Loyalist, but I think the more comfortable you are with a camera, chances are you're going to shoot much more fluidly.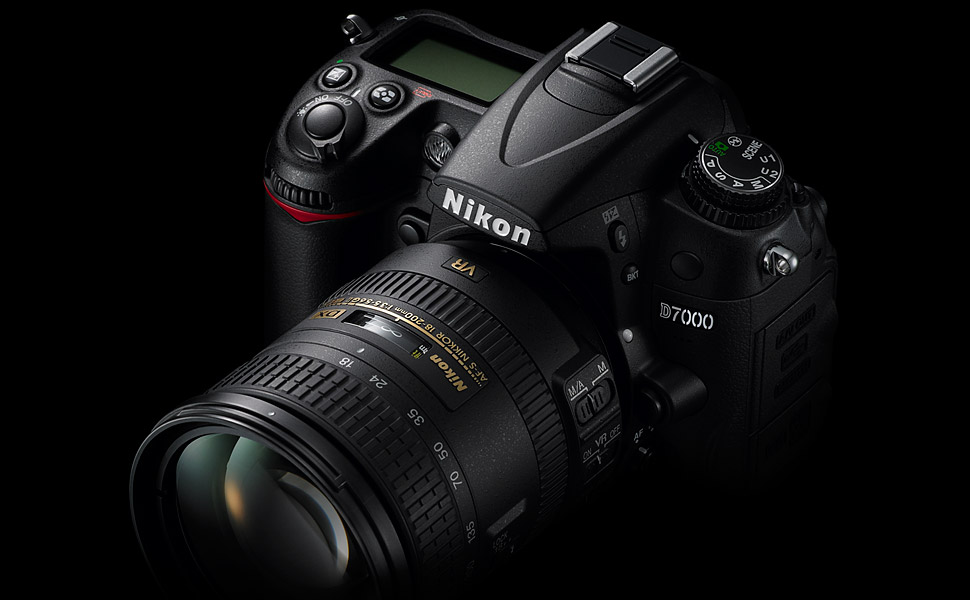 Photo via Uncrate.com
(You should see me with some of those Canons, oh my! I swear most of them have completely different layouts from each other!)
4 - The Dillinger of LCDs.
Let me just compare the LCD on my old camera and the D7000 and you be the judge, honestly.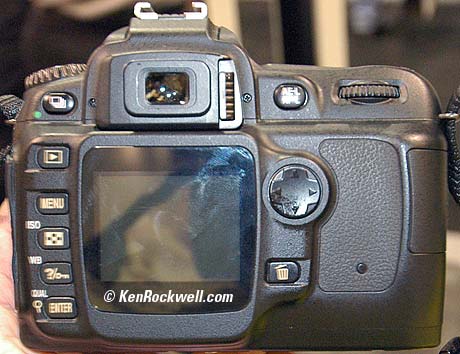 D50
D7000 - Courtesy of kenrockwell.com
So not only is the size great, it came with a screen protector that wasn't just a cheap plastic film and it helps when I'm shooting at the sandy beach. It's a super clear screen, it's a more accurate view and I find the contrast settings aren't wonky. No matter how much I tried to adjust the D50's LCD options, I couldn't get an accurate idea of contrast from a quick view. Regardless, I always review my histogram when needed, but I needed something a little faster to suit my portraits.
5 - It's Faster Than a Kustom!
Sure, sure it shoots 6 fps gloriously, but I mean this thing is
fast!
It just configures, focuses and shoots like no other camera I've ever worked with. It may just be one of those things where I've been using such a low-end camera that anything seems smooth, but this thing is a reaaaal smooth cat, ya dig? I had to deal with a camera that hardly ever focused properly on its own. It was mostly due to its age, since I had actually bought it used when I did, but this camera just makes me want to frolic. I feel like it actually gets ahead of me and I hardly ever have to think about focusing on the subject ('though I keep to a strict check-in policy on almost every shot to make sure I go it). The continuous shooting options have razzed me for sure, I love that I no longer have to bottleneck the performance of my 50mm.
6 - Shutter Release Modes.
"Holy Hipsville, I've reached the jackpot!"
I thought as used each mode to photograph samples of my cats. Continuous and Single Shots: Oh my! Remote and Timer shots: Oh boy! Quiet Shooting?! No way! Seriously one of my favourite features of the D7000 was the ability to adjust how fast or slow I needed to go when shooting. Considering I shoot 99% portraits, whether they're; self-portraits, glamour/fashion portraits, or fuzzy feline portraits, this is
so
what I was looking for.
Especially
for those
self-portraits and Outfit Posts
, the D7000 did me a huge favour with their Timer/Remote settings. It allows you to set the time to take multiple shots within set time frames from each other making it jumbles easier to get multi-shots of a single outfit with many poses. A++ Nikon!
7 - Ahh, Peace and Quiet...
Something I had thought was lost once I assumed I'd have the D50 for a bit longer (seeming as the gift idea was sort of a surprise), but the D7000 changed everything. Not only does it shoot fluidly and very ergonomically, it's made in the shade quiet! Absolutely beautiful when you don't have to hear a giant CU-CLUNK every time you release the shutter. My D50's age, wear and long-lived performance may have attributed to it's horrendously loud, clunky and slow shutter but without-a-doubt the D7000 isn't even comparable to a D50 at its best. Oh, oh, oh! Did I forget to elaborate on the D7000's quiet shooting mode? Because oh-my-god! You have no idea how long I've been searching for this. So many locations and situations I've been in where I've just wanted to shoot in peace without drawing any attention because the elder camera definitely didn't help me in that situation... "hey, a nice camer-" CU-CLUNK!
In conclusion, fulfilled isn't even where it begins. I shoot faster, more effectively, comfortably and better than I did before. I'm extremely satisfied that I can finally get what I wanted out of my own work and efforts. If you have the extra bread for a new DSLR in the upper-class region of cameras, put your sights on the D7000, a beauty from the Nikon D-series. Absolute beauty.
A more extensive review on tech, design and more generous comparisons over at Ken Rockwell's Site!